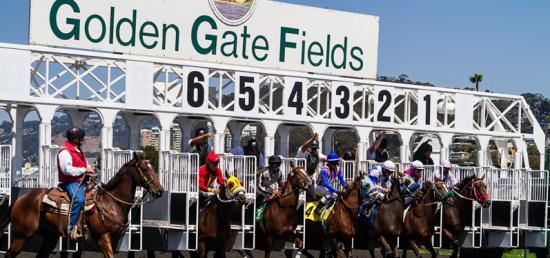 Golden Gate Fields
Golden Gate Fields is the last major racetrack left in Northern California. Though it does not have the star power of Del Mar or the popularity of Santa Anita, the San Francisco Bay area racetrack has a rich history and has been the home track of some highly regarded racehorses. In addition, jockey Russell Baze, the all-time leading jockey in history based on wins, has forged a large portion of his career at Golden Gate.

Golden Gate Fields Horse Racing
Golden Gate will remain the final track in California to race over synthetic surfaces. The track holds a one-mile synthetic surface made of Tapeta footing. In addition, their turf course is just over seven furlongs.
Major Races and Events
Though the track does not host a Grade 1 race, Golden Gate does offer several prominent Grade 3 events that have begun to rise in popularity. Despite the lack of a true marquee event, Golden Gate Fields has attracted some of the best horses in history such as John Henry, Citation and the brilliant sprinter Lost in the Fog.
El Camino Real Derby
Since the first running in 1982, the El Camino Real Derby (G3) has been the road to the Kentucky Derby via Northern California. It began at Bay Meadows but upon the closing of that track moved to Golden Gate in 2009. The race is run at a mile and an eighth over the synthetic main track and has been won by such high profile horses such as Snow Chief, Tabasco Cat and Event of the Year.
San Francisco Mile
The San Francisco Mile (G3) is a turf event contested on the Golden Gate turf course at the distance of one mile. It was run for the first time in 1987 and particularly in the 1990s would draw a star-studded field. Hawksley Hill, runner-up to Da Hoss in the Breeders' Cup Mile in 1998, won the San Francisco Mile en route to that thrilling race.
Berkeley Handicap
The Berkeley Handicap (G3) is for three-year-olds and upwards and is run at a mile and a sixteenth on the main track. Since it began in 1948, it has attracted competitive fields of West Coast older horses and offers a purse of $100,000. The most prominent winner in recent years has been multiple stakes winner Awesome Gem.